While toddlers at age 2 don't yet developmentally understand the concept of sharing, you can begin practicing "taking turns" at this young age. Samantha Campbell, a Corlears School early childhood educator, provides insights on how she approaches turn-taking in the Seedlings nursery classroom, and what parents can do to support the practice of sharing as children get older.
---
What Is Sharing?
Sharing to a young child is essentially the taking and giving of objects. It is one of our children's first experiences with social interaction and collaborative play.
When a child holds a toy they are building a sense of self, which is reinforced by the idea of ownership of an object. "I have this toy in my hands, therefore I exist."
At this age, children are still building cognitive understanding of others feelings, so when we ask them to share it can lead to situations that don't truly resonate or hold meaning for them. This can help to explain why sharing is challenging at age 2. The concept of "sharing" makes more developmental sense at ages 3 and 4. Before reaching that developmental social milestone, "sharing" is actually not expected – instead, "turn-taking" is strongly encouraged.
It is important to remember that at this age, there is no ill-will when it comes to sharing or turn-taking. It is simply young children experimenting with social behaviors. In our Seedlings nursery classroom, for example, our goal with "sharing" is to make it a genuine and meaningful experience for our 2-year-old students. And that often involves taking a step back and following the children's lead.
How to Begin Teaching Sharing
Most often the best way to support taking turns and sharing is to do nothing. In doing nothing, we are actually doing so much. We are providing our children the space to navigate social interactions and problem solve on their own. When children have these opportunities for uninterrupted socialization, they will try out different options, such as:
"Should I let go and allow my friend to take the pom-poms away?"
"Do I even want the pom-poms anymore, or am I ready to move on to another toy?"
Or, "Is it important to me to get the pom-poms back?"
Their body language and verbal cues will let us know what to do next.
If they have no reaction when another child takes the toy they are using and the child moves on, we don't need to intervene. Intervening all the time can lead to children always relying on us to help solve their problems. By assuming they want the item back and encouraging the other child to return the item, we can actually reinforce the feeling of possessiveness. However, we will always ensure everyone is safe.
If our children turn to us, but don't seem upset, we can offer comfort by naming what just happened and validating their experience. We can either offer a different toy or see if they move on independently. If they verbally or nonverbally communicate that they are upset and they want to item back, then we can step in and provide support.
Ways to Provide Support Around Sharing
Language to Support Sharing
We want to keep our language regarding sharing simple and as literal as possible, which will help support understanding.
If a child has a toy and doesn't want to share it, some language to support could be:
If a child has grabbed a toy and needs to return it, some language to support could be:
"Stop"
"Sam's not done. It's Sam's turn. Istoda's turn is next." Then repeat:"Sam's turn, Istoda's turn."
"Let's play with (new toy)."
How to Respond to Toy-Grabbing
If there is persistent grabbing and the situation is becoming uncomfortable or unsafe, here are some ways we can intervene:
Block the grab using your body and use simple language such as, "I can't let you grab."
Help the child doing the grabbing to manage that impulse. Again using simple, literal language such as, "Sylvia is using the book. Let's find another book."
If needed, gently redirect the child to a different area of the classroom or space. You can say, "You want the pom-poms. Sam is not done with them. It feels really hard to wait. Let's play over by the water until she is done."

Our hope is to encourage turn-taking in an organic and developmentally appropriate way at age 2, knowing it builds capacity for true sharing as toddlers grow older. At Corlears, our early childhood educators are mindful of how we approach each situation, honoring and validating both children's experiences showing empathy for everyone involved.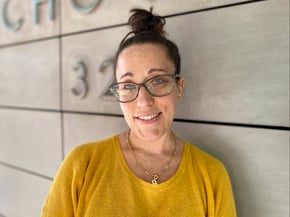 Samantha Campbell
Samantha Campbell is a Head Teacher in the Seedlings nursery classroom at Corlears School. She holds a Master's degree in Early Childhood Education and Literacy Studies. She has a passion for creating a classroom environment where children can explore freely and be their truest selves. Every year she focuses on developing meaningful, authentic relationships with each child and their family in her classroom. After over a decade of teaching she still has such a strong passion for this important and rewarding work.